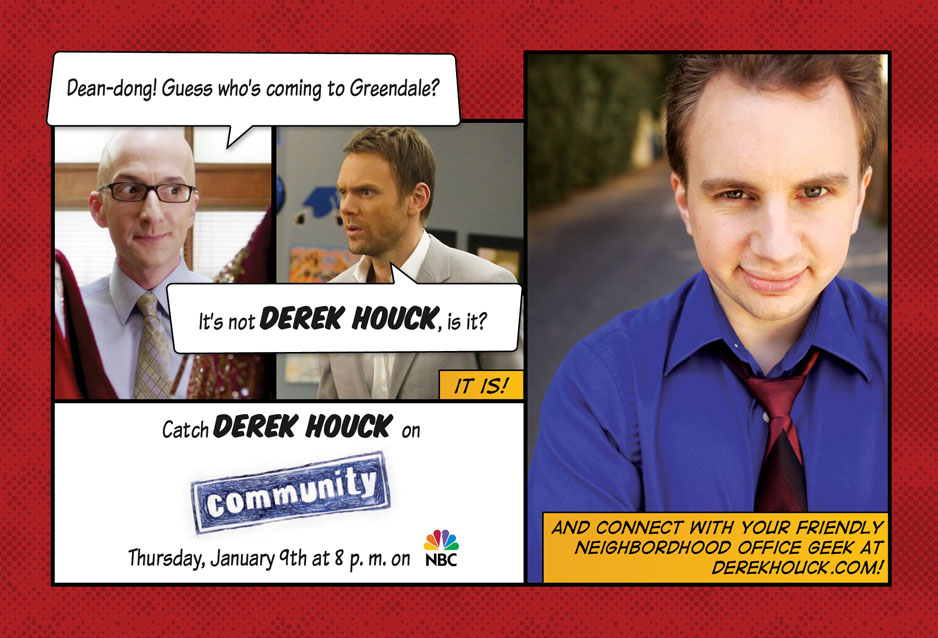 Catch Derek Houck in Community on Thursday, January 9th, at 8 p.m. Eastern (7 p.m. Central) on NBC!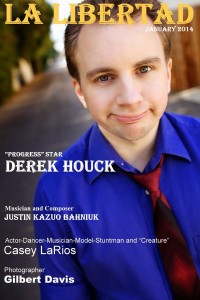 Derek Houck is the cover model and featured interview in the January issue of La Libertad. Derek talks about working on the IAWTV-nominated web series Progress in a wide-ranging discussion that covers his career and personal life. From the interview:
WMV: What advice, if any, would you give others who are also trying to "make it" in the entertainment industry?

Derek: Focus on building a career, not on landing a particular job. Help others out when you can, and they'll do the same for you. The only reason I knew about "Progress" is because I did a children's show with the producer, Nicole Wright, years earlier. I plan to be acting when I'm seventy, and I want to be able to turn to my co-star and say, "Remember that student film we did together back in '07? Before the clone wars and drone pizza delivery? Ah, those were the days."
Be sure to read the full interview where Derek discusses a wide variety of subjects, including the creation of Napoleon Bon Appétit, which Kansas City is the REAL Kansas City, and why the Love That Girl! premiere party was called a "meet and tweet."
Progress has been listed as one of Snobby Robot's Five Favorite Series of 2013. From the article:
Along with its great cast, writing and storyline, PROGRESS also makes an incredible visual impact on viewers through its dazzling special effects and production design – both of which were accomplished on a next to nothing budget. It's an impressive feat that has earned PROGRESS two IAWTV nominations for both outstanding visual effects and set design…. Combined with its outstanding group of actors and its intriguing story, PROGRESS is a web series that truly made quite an impression on me – both in style and substance.
Progress is a ten-episode web series. Victorian England has a steam-powered Internet and Jack the Ripper is posting his crimes on the web. The series has been featured in numerous publications, including Wired.com's GeekMom blog and The Steampunk Tribune.