EXTENDED – Captain Dan Dixon vs The Moth Sluts From the Fifth Dimension
10 Apr 2009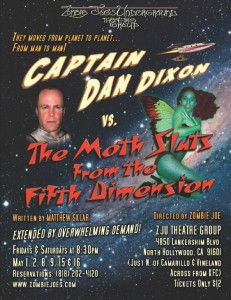 It's official. After receiving rave reviews from Backstage and LA Weekly, after turning dozens away at the door, and after playing to four jam-packed cheering audiences, Captain Dan Dixon is back to fight the Moth Sluts From the Fifth Dimension once again! Due to overwhelming demand, Zombie Joe's Underground is extending "Captain Dan Dixon vs. The Moth Sluts From the Fifth Dimension" for three weekends starting May 1st. Performances are Friday and Saturday evenings at 8:30pm. Tickets are only $12 and you can make reservations by calling 818-202-4120.
I play the part of Virgil, the ship's co-pilot with a naivete that belies his vast knowledge of space and his sharp technical skill. Though his knowledge of the stars is vast, when it comes to love, Virgil is shy and innocent as a newborn babe. What will he do when he meets the littlest Moth Slut, VickiBelle, who seems to be just as fresh and unspoiled as he?
Captain Dan Dixon vs. the Moth Sluts from the Fifth Dimension hearkens back to classic Science Fiction, using the backdrop of space to entertain while exploring potential implications and consequences of roads not yet taken. The story chronicles the maiden voyage of the Magellan, a military exploration vessel, and her flawed but intrepid captain and crew. Upon reaching another solar system for the first time in human history, our heroes inadvertently rescue the last of the Vulvulans, a seductive race of insect women whose motives are open to question. Though friendly and decidedly beautiful, the Vulvulans wield unearthly powers, giving Dr. Canigulus, the scientific genius behind the Magellan, cause for concern. She knows that bringing aliens, no matter how engaging, back to Earth is a recipe for disaster. But what to do with our new guests? As Captain Dixon and Canigulus search desperately for answers, the entire crew, Dixon included, are falling ever deeper under the seductive spell of the Vulvulan Mind Massage. Are the Vulvulans truly benign purveyors of pleasure, or is their altruism masking more sinister nature? Must Dan Dixon preemptively exterminate an alien race – sacrificing a piece of his own humanity – in order to preserve all of humanity?
Zombie Joe's Underground is located at 4850 Lankershim Blvd, North Hollywood, CA 91601. (It is just north of Camarillo & Vineland, across from the KFC.)