"Napoleon Bon Appétit" to premiere November 17th on Somebody's Basement
10 Nov 2010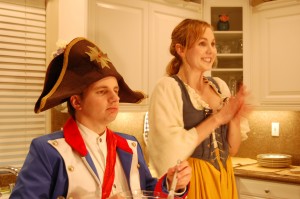 Meet the cooking show with a complex. When "Napoleon Bon Appétit" launches on November 17th, the internet will become a lot tastier and a little more French. The new web series features Napoleon (Derek Houck, "Super Undead Doctor Roach," "Absent") and his Kitchen Wench (Katherine Browning, "The Carpenter") as the hosts of their own cooking show. The pair will be serving up a new recipe every two weeks on Somebody's Basement and www.NapoleonBonAppetit.com.
On the premiere episode, "Chicken Cordon Bleu," Napoleon stakes his claim to a classic French dish. The Kitchen Wench does her best to restrain the pint-sized dictator, but what will she do when Napoleon discovers an intoxicating ingredient in the recipe?
Photos from the set are currently available on www.NapoleonBonAppetit.com.
"Napoleon Bon Appétit" stars Derek Houck as Napoleon Bonaparte and Katherine Browning as the Kitchen Wench.
Guest starring are Christine Moore as Louisette Caro and Sasha Carrera as Terri Reichl.
"Napoleon Bon Appétit" was written by Derek Houck. Katherine Browning serves as the producer, along with David Walters. The series is from Black Falcon Productions.
About Somebody's Basement
Somebody's Basement is a web distribution channel founded in 2010 by casting director, author, and producer Bonnie Gillespie; actor, writer, producer Keith Johnson; and producer Ryan Basham. Somebody's Basement is a grassroots web network that features premiere content developed and collaborated upon by the best of the emerging independent web community. Somebody's Basement: Where everybody goes to jam.